Titanium Welding Chamber to Repair Jet Engines
A titanium welding chamber made to repair jet engine turbine blades.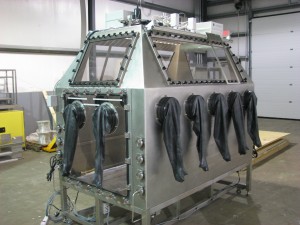 Hamilton College Conducts Synthetic Chemistry Research with LC Technology Glovebox and Freezer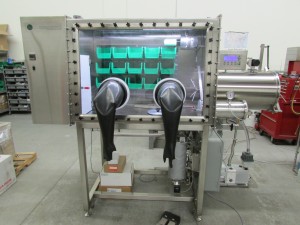 Max Majireck is using an LC-100 glovebox with a FR-120 freezer to complete his synthetic chemistry research at Hamilton College. LC Technology offers the largest side mounted freezer in the industry with the ability to maintain a temperature of -35C.
PCB Piezotronics, Inc. Uses LC Technology Glovebox for Laser Welding Application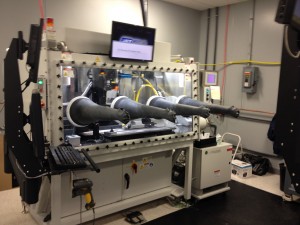 PCB Piezotronics, Inc., a manufacturer of precision sensors and sensor accessory products uses an LC Technology glovebox for their laser welding application. You can learn more about PCB by visiting pcb.com.
Coastal Carolina University To Receive Double Sided Glovebox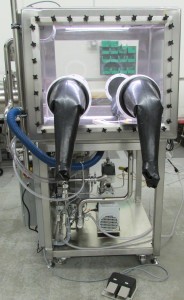 Kevin McWilliams and his department at Coastal Carolina University will soon be receiving a new glovebox from LC Technology. Professor McWilliams needed a glovebox for simple chemical transfer, storage, and air-free spectroscopy, all in a compact, cost effective, double-sided system that is able to reach and maintain a <1PPM oxygen and moisture environment. This personal workstation glovebox is much more economically priced than a typical double-sided system.
Torpedo Style Thermal Evaporator for University of Virginia's Department of Chemical Engineering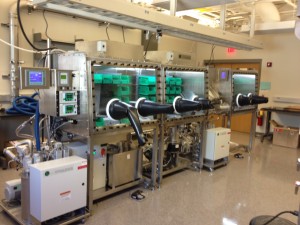 LC Technology recently supplied a new glovebox system including a "torpedo" style thermal evaporator for Josh Choi and his group at the University of Virginia's Department of Chemical Engineering.
"New insights obtained from our research enable development of novel semiconductor nanomaterials with tailored properties for next generation solar cells, light-emitting diodes, medical imaging agents and spintronics."
Custom Glovebox for ASELSAN in Turkey
ASELSAN, in cooperation with high technology institutes, aims to conduct leading edge technology development projects, such as those that deal with the basic elements of infrared detectors and night vision compatible displays. ASELSAN started organic light emitting diode based display research using Graphene, the extraordinary carbon allotrope, researchers of whom won the 2010 Nobel Physics Prize.
LC Technology just finished building a 42' long glovebox system for OLED research and OLED display manufacturing. The system is comprised of 7 gloveboxes, 2 "T" chambers and 3 gas purifiers. Integrated into the system is a UV ozone cleaner, Dimatix inkjet printer, spincoater, Trovato Manufacturing 6 source thermal evaporator, Fisnar glue dispensing robot, and a UV curing and lamination station.
For more information visit on ASELSAN visit aselsan.com.tr